Course and Club Descriptions: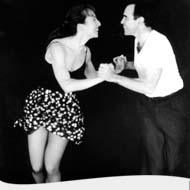 In all our courses we help you develop the skills needed to move comfortably with another human being (partner). We focus both on the leader who we call the "choreographer" and the follower who we call the "dancer". Each has an integral role in making any partnership work; the choreographer decides when to move, negotiates the room, provides lots of opportunities for his/her partner, plays with the rhythms of the music, all while paying attention to the safety of the dancer; the dancer maintains or comes back to a parallel chest position with his/her partner, keeps a constant distance (1/8 inch to a foot) from the partner and embellishes the many opportunities. To become a better and more communicative dance partner we provide our students opportunities to develop the skills of both choreographer and dancer. We are well known for our unique method of teaching rhythms and weight shifts called "Oonka Ah". Vocalizing instead of counting keeps our students in touch with the music throughout the learning process and makes it fun! Not only do we cover partnering skills, steps indicative of the dances, ways to recognize rhythms and speeds, but also ways to improvise and how to turn mistakes into great choreography! Lastly, Eileen and Raul make a point of giving students who need lots of repetition and those who are ready to move on equal attention by dividing the class between them during each session.

Argentine Tango
Feel the passion of an embrace of arms and legs to music that demands intense fire. Our form of Argentine Tango was generated by the popular theatrical style introduced into this country from Argentina in the late 80s. Here you will develop skills to be able to enjoy the playful challenges of the dance. An extended foot can be walked over, playfully kicked, or rubbed with a bit of tease. An open position with a bent knee cries out for a gancho or a sentada. In these courses you will develop skills to perform salida, cruzadas, resolutions, ochos, double ochos, cradles, pasadas, voleo, moldita, grapevine and much more.

Cha Cha,
Cha Cha is an offshoot of the triple mambo of Cuba. Cha Cha came to the United States in the 1950's and has remained a popular dance for Latin dance aficionados and is played in most Latin night clubs. In this course you will develop the circular movements of the hips and ribs indicative of most Latin dances. Basics including turns in all directions, cross body leads and ways to improvise.

Dance Floor Fundamantals
Invited to a wedding or a party but dreading the dance floor? Using their unique teaching technique "Oonka Ah," Beginning students will learn the fundamentals of three dances that form the foundation of modern social dancing: waltz, swing, and foxtrot. You will learn how to move comfortably with a partner to a variety of rhythms and will also learn how to determine what dance style is appropriate for different types of music. No partner necessary.

Hustle
This series of Disco dances were extremely popular in the 1970s. Today, Hustle is use to dance to disco music in ballrooms and nightclubs. It has some features in common with swing and salsa dance.
p
Foxtrot
Get lost in the romance of a Fred and Ginger scene as you learn to glide gracefully across the dance floor. Many dance moves in Foxtrot consist of walking, hugging, and twirling with a partner using dance concepts, partnering, leading, and traveling techniques.
p
Latin Fusion
Combine the movements and style of Cha Cha, Rumba, Argentine Tango to a variety of latin music.

Latin Sampler
Beginning students will learn the basics of Salsa, Merengue and Bachata, Latin Night Club's most popular dances.

Merengue/Bachata
Bachata dance originated in the Dominican Republic from a fusion of bolero and the Cuban son. Like other popular social dances, Bachata was danced among the common people in the Dominican Republic and later became explosively popular throughout the Latin Club world.
Merengue has European, Spanish, and African influences that date back to the early 1800's. The fast 2/4 time social dance of today had a hip motion that resembles an egg beater in action, thus the name Merengue.

Salsa
Look Cool and feel hot! Learn the exiting Country and Big city styles that allow you to dance comfortably in every dance club in the world. Country Style moves from side to side (east/west) facilitating interesting pivot turns, cuddles, wrap arounds and more. Big City basic which moves forward and back (north/south) facilitates the ability to revolve, has many turns, introduces the cross body lead, etc. Both styles interchange beautifully to help you create an infinite combination of movements when combined with "magic hands". As you progress you will learn movements like multiple turns, whips, hammer lock/turns, tunnels, pretzels, and others.

Swing
Swing, Jitterbug and Lindy Hop are names that describe the dance during the 1920's. It originated within the African-American Community with a dance known as the Charleston. On March 26, 1926, the Savoy Ballroom in New York City opened its doors to great African-American Swinging Jazz dance bands thus creating the Swing dance era. Following Charles Lindbergh's famous flight to Paris, night club Swing dancers were coined, Lindy Hoppers. By the end of 1936, Swing and Lindy swept the United States and has remained one of the great American social dances. In our course the rhythms of six count swing and eight count Lindy are delightfully combined. First learn the basics of each then advance to underarm turns, loop passes, tuck turns, jockey, charleston and more.

Waltz
From the Austrian peasants in the suburbs of Vienna during the 17th Century came the Waltz. Later in 18th century France, in a the form of contredanse, the close position hold was introduced. The first time the waltz was danced in the United States was 1834 in Boston. Now firmly established in American society, the waltz is popular at weddings and formal social dance events. Learn Cotillion, Viennese, and American Ballroom styles.