Custom Events and Party Facilitation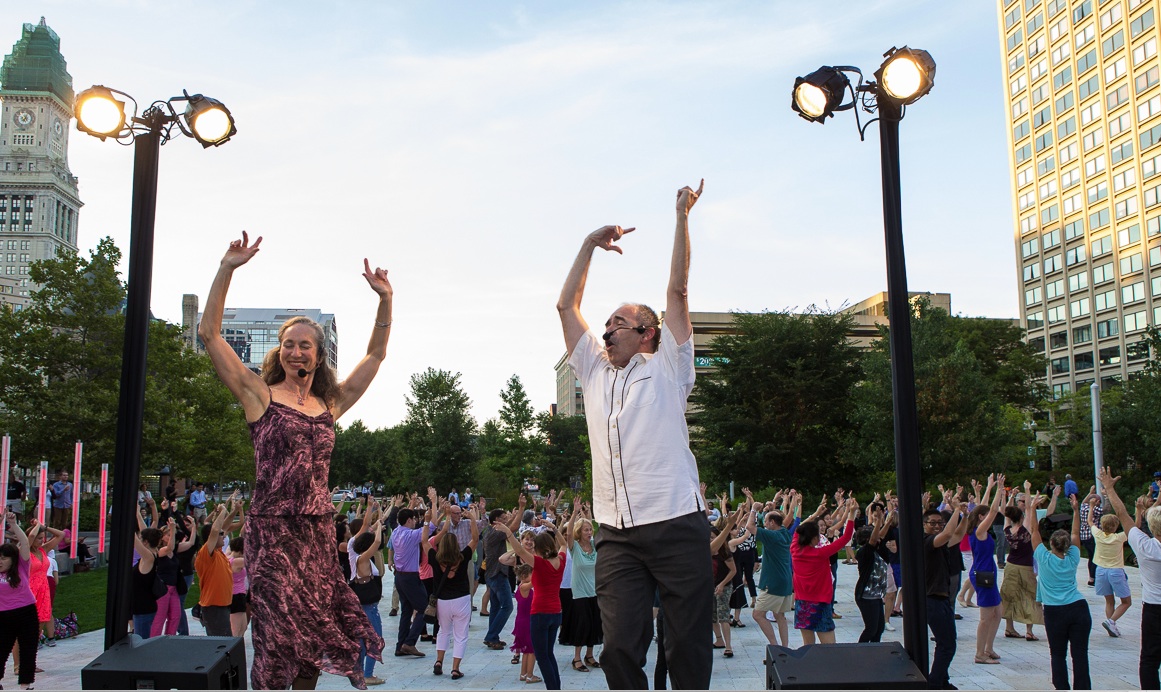 Eileen Herman-Haase and Raul Nieves, co-owners of Dance Caliente enjoy designing programs that suit the unique needs of each client.

As party motivators, Eileen and Raul facilitates personal, corporate and community functions, and encourage audiences to mingle, relax, dance and have fun.

Eileen and Raul posess engaging and encouraging personas. Audiences of all ages respond to their charisima. They perform a vast range of social dances including Ballroom and Latin dance and uses effective and creative teaching techniques, which include their "Oonka Ah" that engage audience participation in learning how to dance and to party! Their dance expertise include the Foxtrot, Waltz and Swing/Lindy and plus a variety of Latin Dances including the Salsa and Argentine Tango. They also offer specialty dances like the Charleston and the Peobody.

In addition, Eileen and Raul offer audience engaging performance events such as the Dancing through the Decades with Dance Caliente, and the Dance Caliente's Childrens Latin American Workshop.

A sample of events that we have facilitated:
Lead Teachers for the opening night of Boston Celebrity Series, 'Let's Dance Boston' on the Rose Kennedy Greenway;
Hosts of The Boston Center for the Arts, 'Fred and Ginger Dance Party'

Counselor Motivation through Salsa Dance at Camp Young Judaea, Amherst, New Hampshire.
Raul and Eileen entertained and taught Salsa to an assembly of camp counselors to jumpstart their season.

Third annual "Dance Around The World" Master class for a Cause – Autism, Boston, MA
Performed Argentine Tango, Salsa, Swing and more to energize the Zumba Fitness crowd prior to the master class.

6th Annual Radiance Gala for Springstep – "Dancing With the Springstep Stars". Choreographed, taught and rehearsed with designated "star" (Michael Sack, CEO pf Hallmark Health and Grace Peng, board of The Asperger's Association of New England, art collector and philanthropist) culminating in a performace/presentation at the Gala.September 10, 2010 – Horace Mann School Semi-Annual Fundraiser – Melrose, MA
Performance and instruction of Springstep's sponsors attending the affair.

50th Birthday Party - Belmont, MA
Party Facilitation including performances and instruction in a multitude of partner dances throughout the entire party.

60th Birthday Party - Burlington, MA
Instruction and performance for surprise 60th Birthday Party
given by son for his parents.

4th Annual Celebration for Springstep - Medford, MA
Performance and instruction of several Latin Dances.

50th Wedding Aniversary - Medford, MA
Performance of Ballroom and Latin Dance including Swing, Salsa and Argentine Tango, instruction for guests and a dance with the anniversary couple.

IROBOT - at Springstep- Medford, MA
Performance and instruction for guests of company party.

Dancers Workshop
Danced a Salsa as featured performers for Dancers Workshop annual recital.
Also choreographers of teachers opening performance.